Buying a shipping container can be a great option for someone looking to get into their first home, or build on to their current property.
We Answer The Phone 7 Days a Week
Our Lead Time Averages 5 Weeks
Our Build Time Averages 5 Weeks
2 Million Miles Covered in Deliveries
12 Million Pounds of Containers Modified
Advantages of Shipping Container Homes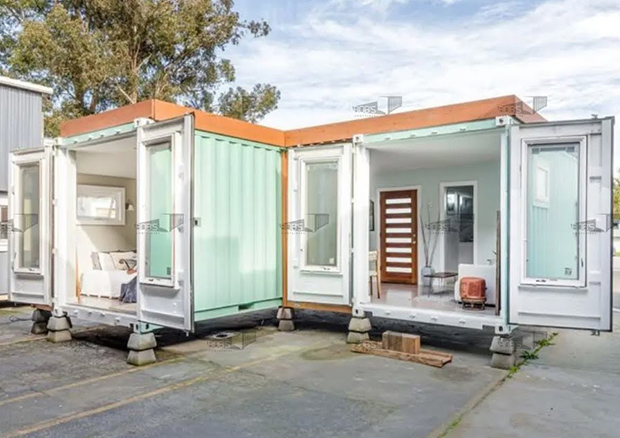 Modern Design
You can use most of the same materials in your shipping container build that you would use in a traditional home build.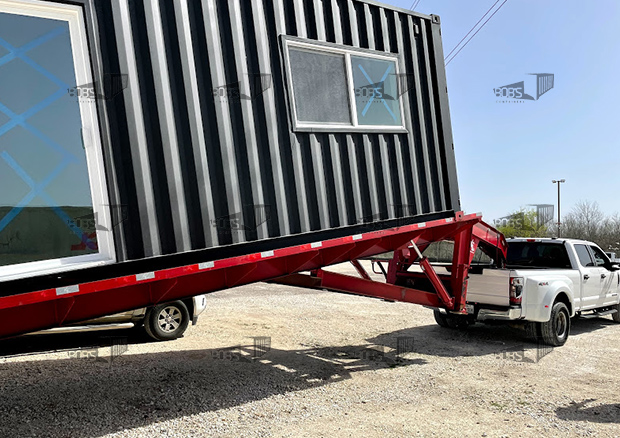 Easily Shipped and Moved
The maneuverability and small size lends itself to easily picking up and moving locations without much hassle.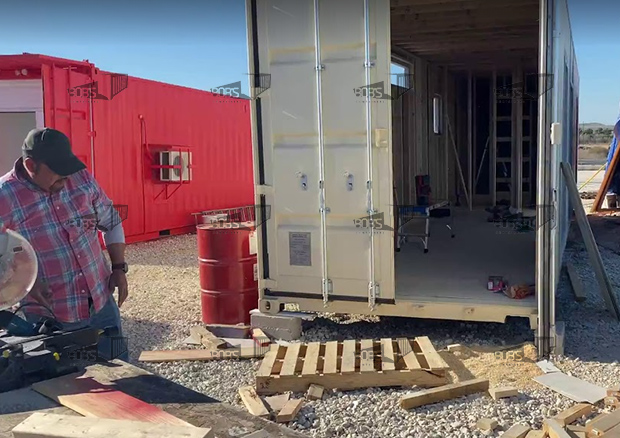 Quick to Construct
Especially with our pre-fab builds, we can move through the build process very quickly since we have worked through design.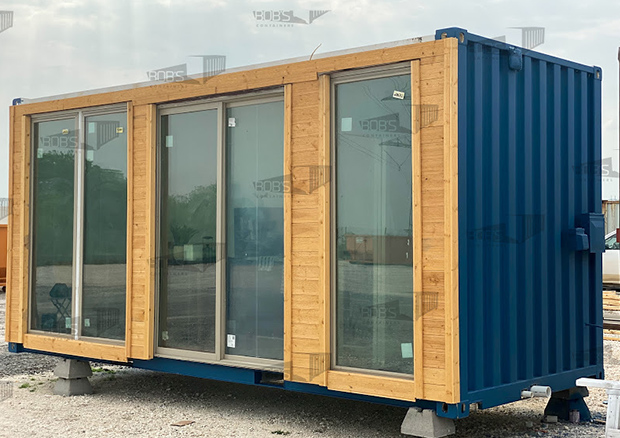 Durable
Shipping containers are designed to withstand the elements for more than 30 days on the high seas. They're sure to last for you as well.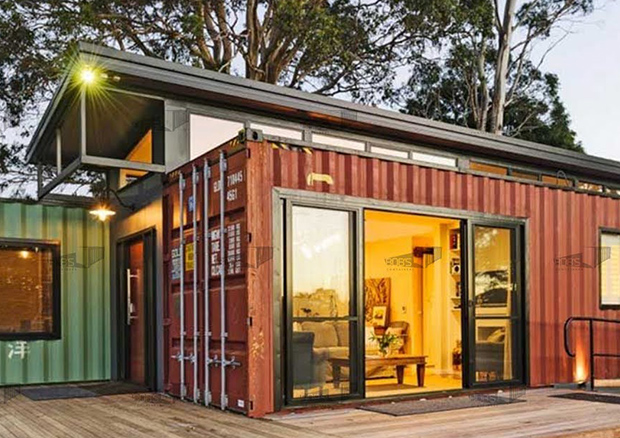 Modular
Having the ability to conjoin two or more containers within the realms of architecture and engineering opens many possibilities.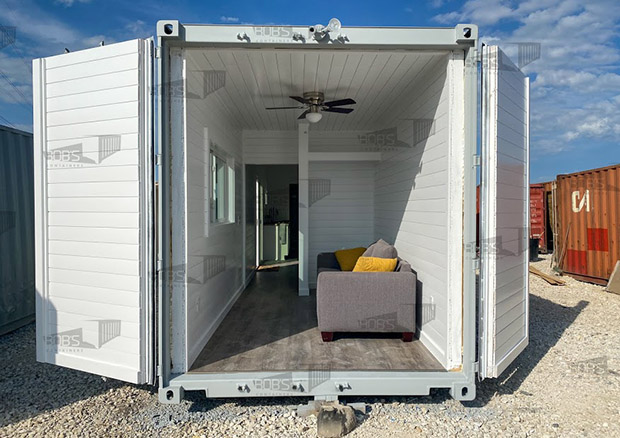 Investment & Returns
Depending on the desire for your build, shipping containers can be a great investment with a quick turnaround on ROI.
As you can see with the list above, buying a shipping container can be a great option for someone looking to get into their first home, or build on to their current property. We have worked with folks in every phase of the buyer journey to educate, inform, and help make a decision they can be comfortable with for years to come. With Bob's Containers, it really is a no brainer!
I am so impressed with Bob's containers. They were so honest and made delivery so quickly and even gave me a discount. The driver Craig was so wonderful, so sweet, and so patient to get the container where I wanted it. And it was a challenge. I recommend Bob's containers for any container need you may have.They had the best prices and definitely the best service . I plan to buy a few more and I will not go anywhere else . Trust me I checked around for weeks and these guys were outstanding. Karen Maurer, Google
Very good customer service on initial call. Very knowledgeable and great listeners to the customers potential buying experience. By the way thats THE best jingle I've heard in a very long time. Hope to be doing business with the Bob's container crew in the near future. Gonzalo Pena III, Google
I was shopping for a shed at home depot with the thoughts of finishing it out real nice to use as a man cave but I came across Bob's site and now I am hiring them to just build me one. Christian on the sales team got me a quote pretty quick, I made a couple minor changes and my build just started. I've already been sent photos of the insulation going in and I cant wait to see it finished. Everyone I have talked to has been extremely nice and answered all my questions. Great to see some folks taking pride in their work. David Keno, Google
I bought a 20' container home from Bob's sales representative Nathan to be used as an Airbnb on my goat ranch in Bandera, TX. He was courteous and professional throughout the entire process helping me work within my budget. I'm a veteran, which Bob's recognized and gave a discount. Hinckley B. - Yelp
I worked with bob's containers on a custom home for my dad and they did an exceptionally great job. Beyond my wildest dreams, did not think what was just my dads dreams could turn into such a spot on reality. They are accommodating, responsive, and the highest value company I could find to meet my expectations. IT COULD NOT BE EASIER!!!!! Bobs containers, thank you! Be back soon to get one of my own - huge shout out to Nathan and Evan for helping, top notch. Lauren K. - Yelp
Initially seeing their ad on Instagram, I was intrigued at the idea of downsizing from my current metropolitan apartment to a tiny home. From start to finish had a really great experience working with this company. They're highly attentive, young, and ambitious, and it shows through their ability to communicate and follow up with me regularly about my needs, budget. I never had an issue about sending an e-mail to them and getting a prompt response. Overall, I am very happy with my purchase and the customer service they provided for me. David T. - Yelp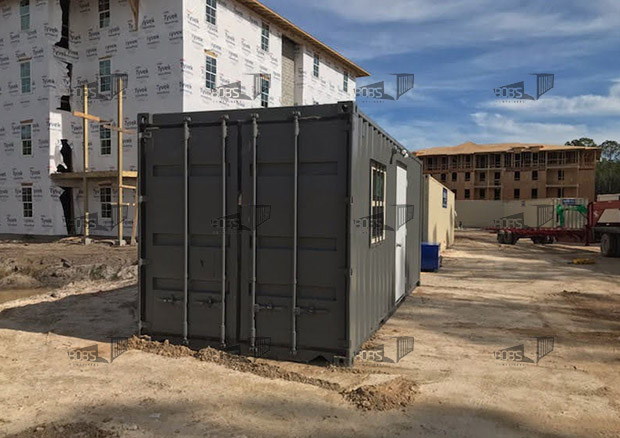 AirBnBs
Put extra land to work and gather passive income with a rentable unit or units with quick turnaround.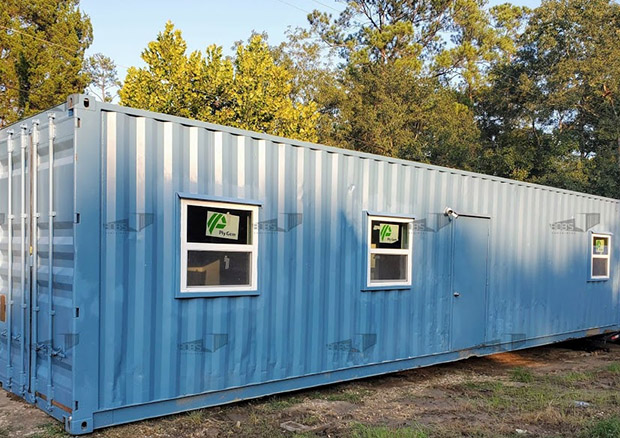 In-law Suites
As your parents or in-laws age, housing can come into question. Use one of our containers!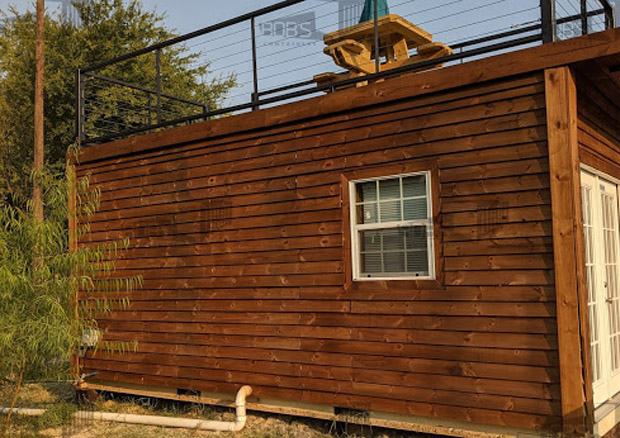 Campsite
Do you have an RV park or campground? Our containers make great glamping options.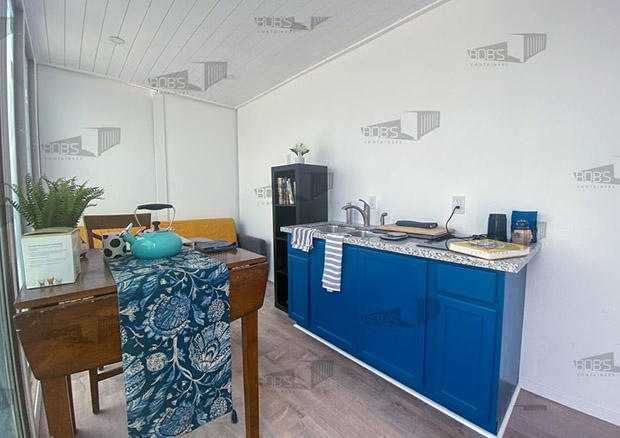 Work Site Offices
Remote work sites can present challenges for your workers. Put a roof over their heads.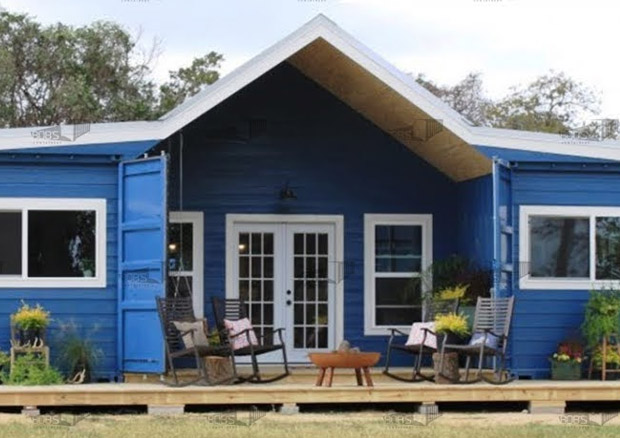 Vacation Homes
Our containers can ship all around the world! Set one up on some land for a vacation home.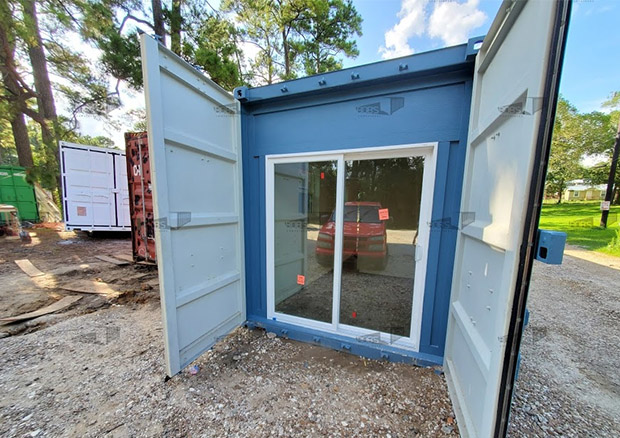 Investment Properties
More and more container communities are popping up with options to rent.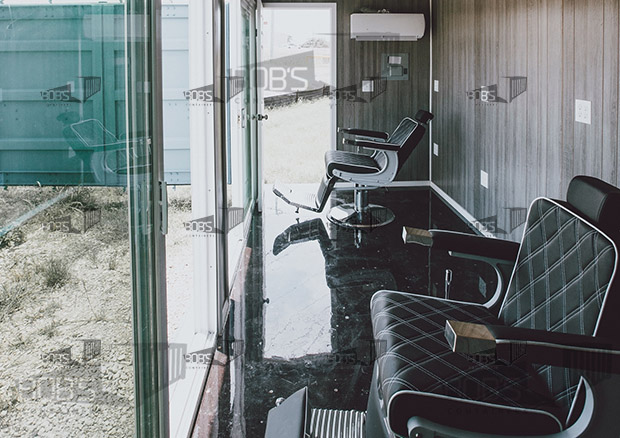 Barbershops
Give your patrons a unique and minimalist experience with a shipping container barbershop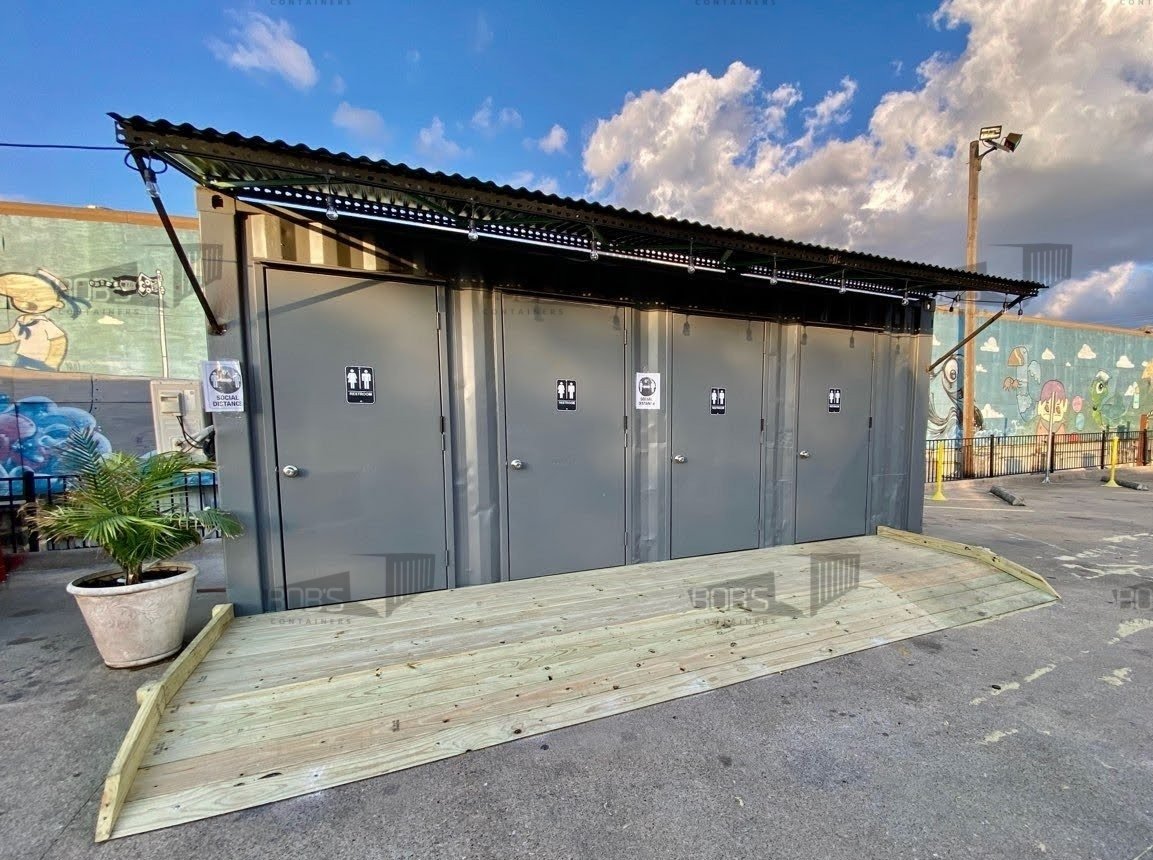 Commercial Restrooms
Restrooms can be a great, cost-effective way to ensure people have access to facilities.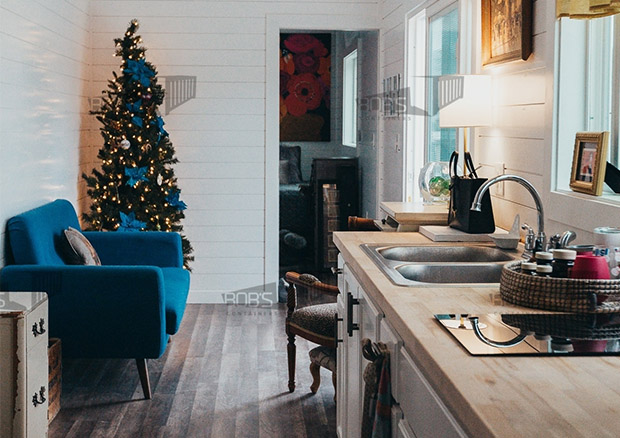 Event Structures
Shipping containers can be outfit to provide food vending, merchandise, and much more.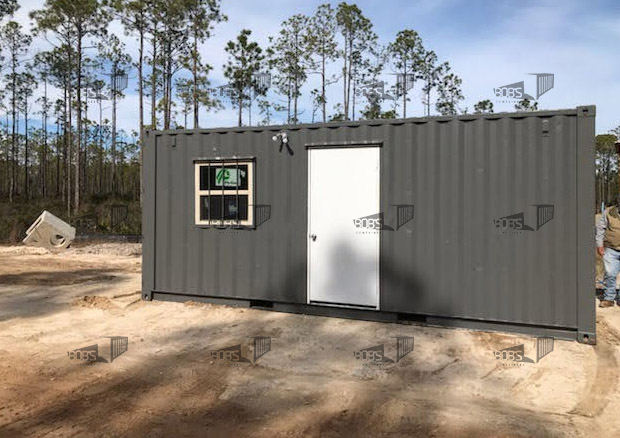 Temporary Housing
Emergencies arise and the need for temporary housing can come up unexpectedly.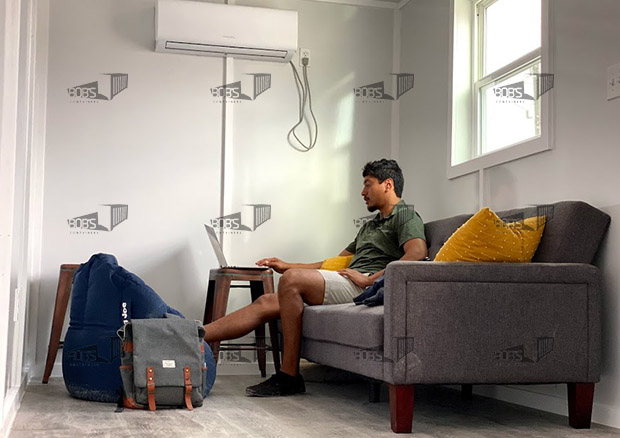 Employee Housing
For temporary jobs, temporary housing can be a solid, cost-effective solution for your company.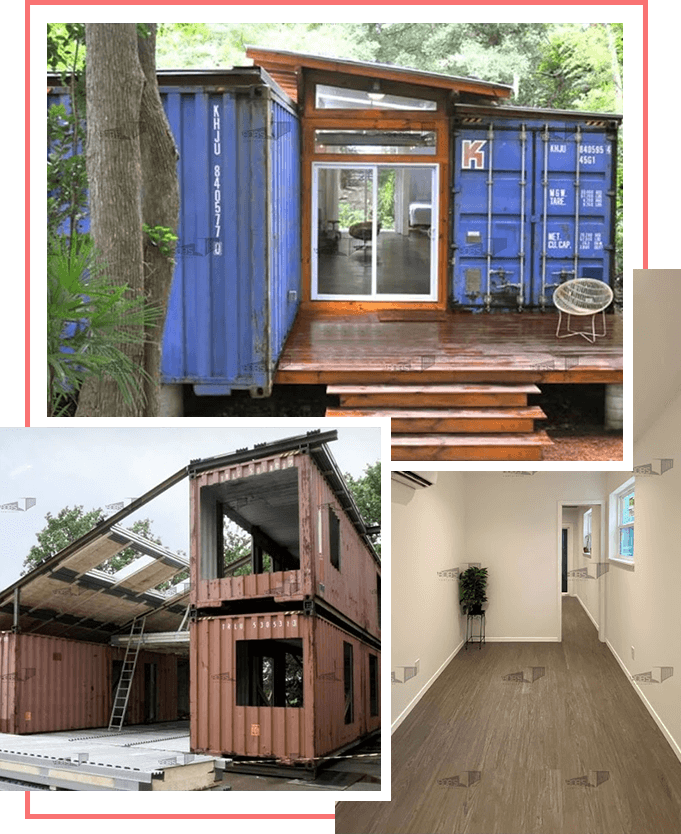 Multi-unit Container Builds
Many of our customers who reach out have been browsing all of the beautiful photos of monstrous shipping container builds in various countries around the world. While these are awesome options and look great on the eye, the cost, in most cases, outweighs the cost of a traditional stick and frame home. The cost to design, blueprint, build, and install can balloon quickly. Our current models listed on the site have been designed and built many times over by our internal team of container techs and specialists. As soon as you enter the custom space, all of that previous work is eliminated and we are basically starting from scratch.

These projects are some of our favorites, but also the most time consuming for our team. An option in the middle of the two would be to browse our models and look at placing 2-3 of them together to expand your square footage. As always, give us a call if you have any questions at all. We are happy to help and make it a point to not let you make a bad decision.
We currently require appointments for yard visits due to COVID-19 protocol. As your build progresses, we do send you pictures along the way and all of our containers come with a right to refuse delivery if the product is not up to standard.
If you want something that's not on our website, call or email us! We have an excellent crew, and we are confident that we can do most modifications on container homes and offices.
It's up to you! For more details on which type to choose, check out our blog on this topic here. All containers are "used", but some have only been used for one trip. This is what would be considered a "new" container in our inventory. These are of the highest quality without getting one fresh off the production floor.
Prices fluctuate with the market and industry. We are constantly getting new inventory at various prices. The prices on our website reflect up to date data.
We have solutions to ship all over the world. We have hubs in integral parts of the United States and continue to expand throughout, but depending on your location and build, shipping costs can quickly increase. Give us a call to gather an idea of delivery options available.
No, our shipping varies for each location, so the prices reflected do not include the cost of shipping. While there is some variability, our standard shipping rates are as follows:
Company Tilt Truck - About $4/mile with no need for forklift. If the trailer can fit, we can unload it.
Flatbed Truck w/ Forklift or Crane - About $3/mile with additional cost associated with the forklift or crane.
Shipping will either be calculated at checkout on the website or discussed with your container specialist as we put your quote together.
A full bathroom is made up of a sink, a shower, a bathtub, and a toilet. For our three-quarter baths, you have all of the above with the bathtub replaced with a shower. For our half-bath options, you just have a sink and a toilet for you and your guests.
The 4x8x16 concrete blocks sold at home depot are great options for stabilization and you can probably pick them up very close to your home at your local home improvement store.
We do our best to keep our website updated with recent pictures, but if you are interested in seeing something you don't currently see, reach out and we will see what we can do.
You can absolutely finance your shipping container! We offer various options whether in house or 3rd party and each have their own set of pros and cons. For more information, please visit our shipping container financing page.
We do provide fixtures, but not furnishings. Fixtures include your kitchen base cabinet, electric, stovetop, sinks, toilet, shower, etc. Our base price does not include the refrigerator, couches, beds, etc. Please contact us if you have any questions on outfitting your container.
While we think our models offer great options, some folks want to design their own space and we are here to help! This will be a consultative based project as these options are not readily available on our website due to the custom nature.
Since the majority of our work falls to shipping container homes, we outfit most of our shipping containers with the following insulation:
R13 - 2" closed spray Foam in walls
R13 - 2" closed spray Foam in walls
R6 - 1" closed cell spray foam under a container